100 Hours of Brutalism
27th – 30th July 2017 Marl / Münster / Wulfen. Nowhere else in Germany you can find such a density of grand and also irritating post-war buildings as in the northern Ruhr area: newly created cities and city centres, experimental housing, structural experiments, innovative mobility concepts and much more. At the end of July, the Hotel Ruhrmoderne offers a unique opportunity to lovers of architecture, art and the city to learn about, interact with and reflect on this architecture.
Inside Hotel Ruhrmoderne, MSA students present a scenario for the future of the centre in Marl, a vast landscape park. Thanks to: Katharina Balke, Marie Jacobson, Lea Keil, Alexander Obiuh, Elias Schau, Marina Schewchuk and Angeline Ziegler. Supervision: Joachim Schultz-Granberg.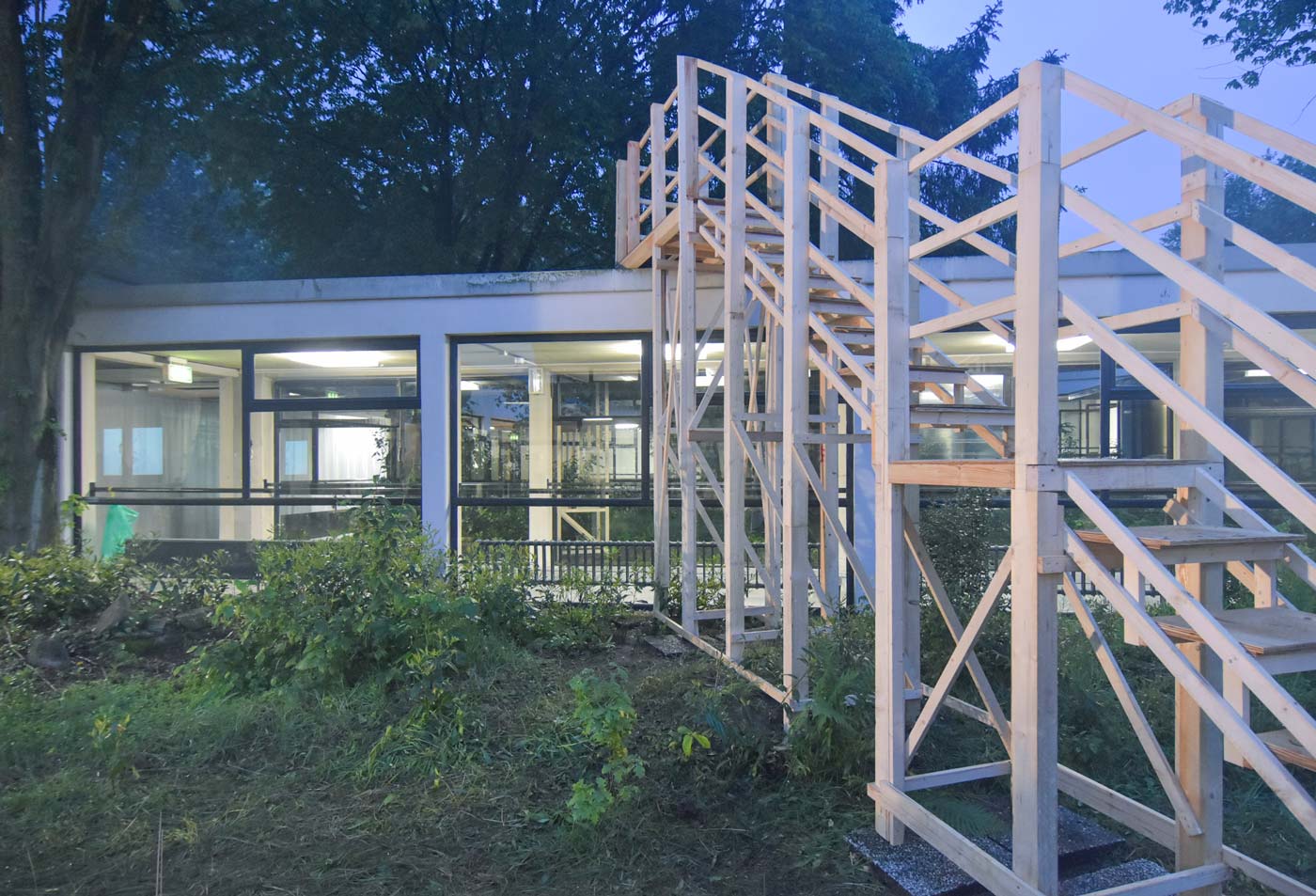 With Constantin Alexander, Alexandra Apfelbaum, Inke Arns, Theo Deutinger, Georg Elben, Oliver Elser, Pia Janssen, Martin Kaltwasser, Jan Kampshoff, Christian Odzuck, Philipp Oswalt, Joachim Schultz-Granberg, Melle Smets and many others.
The Hotel Ruhrmoderne invites you to:
TAKE A LOOK: Three excursions to view the architecture of the post-war period in Marl, Wulfen and the sculpture projects in Münster
REFLECT: Three extended evenings on post-war modernism, with symposia, talks by artists and a film night
EXPERIENCE: Three overnight stays in the former Hauptschule Marl designed by Günther Marschall (completed 1967)
Mit Werken von Van den Broek und Bakema, Richard Gottlob und Horst Klement, Pierre Huyghe, Joseph Paul Kleihues, Kloss und Kolb, Toivo Korhonen und Lauri Sorainen, Josef Lackner, Peter Lilienthal, Günther Marschall, Bruce Naumann, Christian Odzuck, Hito Steyerl, Oscar Tuanzon und Weiteren.
The events, meals and overnight stays take place at the Hauptschule in Marl: a major construction dating from the post-war period, the building had been vacant and was in line for demolition since 2009. In 2015 it was transformed into an initial holding centre for refugees but was never actually used as such because of the falling refugee numbers. Since early June, it has been part of the The Hot Wire project, itself part of Skulptur Projekte Münster 2017. Within the framework of the Ruhrmoderne Sommerakademie (RMSA), students have previously converted the school building together with Constructlab / Alexander Römer and the artist Martin Kaltwasser.
The full programme and further information can be accessed here.

See also: Marschall 66